Food & Beverage Home → PCR Pathogen Tests → BAX® Systems → BAX® System Case Studies → BAX® System Trial Shows...
BAX® System Trial Shows Young's Seafood Why One Vibrio Assay is Better Than Three
Young's Seafood traces its roots back to 1805 when it was founded in Greenwich, England. For over 200 years, it has been supplying high quality seafood and shellfish to customers across the UK. The company is part of the independently owned Foodvest Group, which also includes The Seafood Company in the UK and Findus in Scandinavia and France. The Foodvest Group is one of Europe's leading food businesses and offers chilled, frozen and smoked shellfish and seafood across Europe. Their center for microbiological testing is the Foodvest Microbiology Laboratory, based in Grimsby, UK.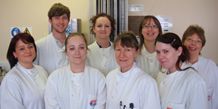 Accurate testing of ready-to-eat seafood and shellfish, especially warm water species, is vitally important in this industry. Vibrio bacteria are typically found in salt water, and several species are pathogenic in humans. Consuming contaminated raw or undercooked shellfish that contain Vibrio can cause food-borne illness. Three Vibrio species – V. cholerae, V. parahaemolyticus and V. vulnificus - are known to cause diarrhea, gastroenteritis or cholera.
When working with chilled shellfish or seafood, time is of the essence, as these products are extremely perishable. Foodvest needs an assay that is accurate, sensitive and fast to ensure the product reaches the customer as quickly as possible. When Jessica White, Laboratory Coordinator of the Grimsby Microbiology Laboratory, heard about the BAX® System Real-Time PCR Assay for Vibrio, she thought that this new test could revolutionize how her lab tested for Vibrio in more than 2,000 Foodvest samples per annum.
Frustration with the current methodology.
The team did not have a single method that tested for all three Vibrio spp. They utilized the British Standard method for V. parahaemolyticus, and for V. cholerae, the CCFRA (Campden & Chorleywood Food Research Association - now Campden BRI) method was used. These typical culture methods had many sources of frustration for the Microbiology Laboratory:
Time - 95% of samples are in the frozen state, and plates must be inoculated at 7 and 24 hours. This caused restrictions in times at which testing could be undertaken and increased the overall time to result.
Flexibility - plates need to be read immediately post-incubation, which causes further testing limitations and staffing issues, as this may be on weekends or holidays.
Media - the standard method requires up to two plates per broth at the two separate streaking times, which increases the amount of media used.
Labor - any presumptive positive on a plate results in further testing; up to 50 colonies, with confirmation tests, including Gram stain, oxidase and motility testing.
BAX® System Vibrio trial.
During the trial, Jessica found that the BAX® System Vibrio assay was 'equally as sensitive and specific as the current method for the detection ofV. parahaemolyticus and V. cholerae.' Young's original culture methods were not used for the detection of V. vulnificus, but they wanted to test for the full range of Vibrio species available with the BAX® System method, so they included some low level spiked samples. The BAX® System Vibrio assay was found to detect V. vulnificus more accurately than the culture method used in the trial.
The Microbiology Laboratory felt that being able to test for all three Vibrio species at one time was an important benefit of the BAX® System, as it consolidates three different culture assays into one faster method. The Microbiology Lab also recognized some other benefits:
Time to result - up to a 48 hour reduction, generating a more efficient and effective positive release system.
Flexibility - testing can be carried out until the end of the day, allowing urgent samples to be processed in the afternoon and on Fridays without extra staffing resources.
Media - 7% reduction in waste produced by the laboratory and required media storage space.
Labor - an overall reduction of 5% in labor required to prepare media.
To ensure that the BAX® System Vibrio Assay was tested as part of Foodvest's standard processes, Jessica put the method through their regular, external proficiency testing as part of the trial. The results came back as 100% passed. Jessica was very happy with how the BAX® System performed - "It was much simpler and was easy to determine a final result when compared to the original culture method."
After looking at all the benefits that the BAX® System Vibrio Assay generated in the trial, the Microbiology Lab also took cost into consideration and deemed it cost effective. Jessica concludes, "Moving over to the BAX® System method will facilitate continued excellence in our laboratory service to the Foodvest Business and improve efficiency in the laboratory overall. The BAX® System Vibrio method will be an important milestone in the Foodvest laboratory's continued technical development, ensuring that we can continue to provide the Group with a premium service, employing the very latest science and technology."