Food & Beverage Home → PCR Pathogen Tests → BAX® Systems → BAX® System Case Studies → BAX® System Strengthens...
BAX® System Strengthens Position of Government Labs in Brazil
Agriculture is a major sector of the Brazilian economy, accounting for about 5% of gross domestic product (GDP) and 36% of exports. Brazil is the world's largest producer of sugar cane, coffee, tropical fruits, frozen concentrated orange juice (FCOJ), and has the world's largest commercial cattle herd at 170 million head. Brazil is also an important producer of soybeans, corn, cotton, cocoa, tobacco, and forest products. The remainder of agricultural output is in the livestock sector, mainly the production of beef and poultry, pork, milk, and seafood.
The Brazilian Ministry of Agriculture, Livestock and Supply (MAPA) is charged with stimulating increased agricultural production and development of agribusiness by meeting domestic consumption and export surplus needs. Dr. Josinete Barros de Freitas is chief of the Audits and Accreditation division and heads the Ministry's food microbiology department. Among her many responsibilities, she coordinates the team of Ministry auditors that monitor official and accredited laboratories, and she oversees the evaluations of alternative rapid methods for pathogen detection.
Ministry adopts RiboPrinter® system for national database.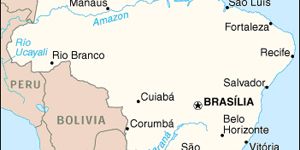 In 2006, the Ministry also adopted the RiboPrinter® System to develop a national database of microorganisms found in Brazilian food, identified by geographic region. This information helps the Ministry understand which pathogens are affecting the Brazilian population, and is useful for pathogen reduction in the meat and poultry industries. Dr. Barros de Freitas commented, "All of these adoptions reflect the Ministry's strong commitment toward modern methods for food safety in the Brazilian and global market."
Official reference method.
In 2004, after evaluating performance on over 1800 samples in 5 separate laboratories, the Ministry found that the PCR-based BAX® System was just as effective as traditional culture methods that had been used by the government for 40 years. The Ministry named the BAX® System an Official Reference Method, meaning it could be used by regulatory agencies and food companies throughout Brazil to detect Salmonella in food, water and environmental samples. Shortly afterwards, it was also named as an Official Reference Method for detecting Listeria monocytogenes. The next area of evaluation for the BAX® System will be PCR assays for Campylobacter, E.coli O157:H7 and Vibrio.
Dr. Barros de Freitas explains, "These validations are important steps by the Ministry of Agriculture, showing its new vision toward modernization of the Brazilian food safety system."
Most modern technology.
Some of the features that influenced adoption of the BAX® system method by the Ministry are its DNA-based technology, ease of use, sensitivity, specificity, flexibility, and electronic reporting. The technical assistance from the distributor in Brazil and the support of scientists also scored high marks.
Another important advantage is that the BAX® System has received international certifications and approvals from the scientific community, including the main countries with which Brazil has trade agreements.
According to Dr. Barros de Freitas, these BAX® System features help the Ministry meet its vision and strengthen the position of its own official laboratories (LANAGRO) with prominence and global recognition of using the most modern technology for food safety programs.