Food & Beverage Home → PCR Pathogen Tests → BAX® Systems → BAX® System Case Studies → Express Microbiology Provides...
Express Microbiology Aims to Provide Earliest Warning on Listeria with BAX® System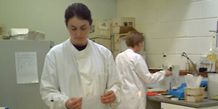 Although the new BAX® System 24E assay for Genus Listeria performed very well in the development lab, the real test would come during field trials on real-world, naturally contaminated samples. Enter Express Microbiology Ltd, a busy UKAS-accredited contract laboratory in Scotland that offers complete microbiological testing service, allergen screening and hygiene consultancy with backup chemical testing.
"We analyzed approximately 100 samples in duplicate with our current UKAS-accredited method," commented Company Director Dr. Jennifer Newton. "The BAX® System method performed extremely well, even with smoked salmon samples…The system is easy to use and less hands-on than traditional culture methods, saving time and effort in the laboratory. We found the service to be excellent and were impressed by the knowledge of their R&D teams."
Benefits to the food industry.
"We could also see the benefits of next-day results to the food industry," continued Dr. Newton. "The speed and excellent sensitivity of the method will give our customers the earliest warning yet possible of potential food safety issues." Such speed is extremely important for food manufacturers when they need the result for a batch that is waiting to be shipped, or if Listeria contamination has been found in the environment and there is an urgent need to determine if it is in the final product.
"We have seen the impact that product recalls can have on food manufacturers," Dr. Newton explains. "Next-day results will mean that we can alert our customers to potential risks before the product is on supermarket shelves. Not only will this protect the health of the consumer, but it will also have obvious economic advantages for the manufacturer - the food recall process is expensive, not to mention the costs to a company's reputation, which are impossible to estimate."
Next step: accreditation.
With the method now fully validated by AFNOR, Express Microbiology expects to achieve UKAS accreditation for this technology in January 2010, making them the first in the UK to offer an approved method for 24-hour reporting of Salmonella and Listeria results.
According to Dr. Newton, "We received a grant from the Scottish Executive to validate the system using British food samples and bacterial strains. This is necessary for market acceptance and UK accreditation. The grant was awarded so that we could demonstrate to the industry and to accreditation bodies that the method is not only faster but also more sensitive than traditional techniques.
"Initially, we will be using the BAX® System for the detection of Listeria and Salmonella, since these are the assays most frequently requested by the UK food industry," Dr. Newton concludes. "However, we are also interested in the BAX® System assays for E. coli O157:H7 and Campylobacter spp., since they are such high-risk organisms. The addition of these assays could enable us to further extend our client base."