Food & Beverage Home → PCR Pathogen Tests → BAX® Systems → BAX® System Case Studies → DVFA Improves Salmonella Testing...
DVFA improves Salmonella Testing with BAX® System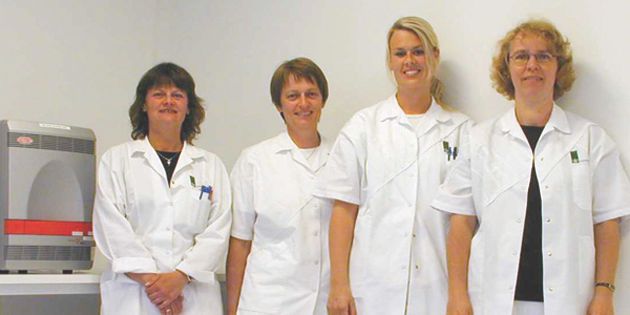 The Danish Veterinary and Food Administration (DVFA), which is part of the Ministry for Family and Consumer Affairs in Denmark, has three regional control authorities in the North, South and East of the country. One of the main purposes of the Administration is to ensure the safety and high quality of foods, setting national limits for the content of undesirable bacteria, such as Salmonella and Campylobacter.
The DVFA Southern region has been accredited by DANAK (according to ISO 17025:2005) to test for Salmonella in different foods using the BAX® System. DANAK is the Danish national body for accreditation whose role is to ensure that laboratories meet the requirements of international standards.
Microbiologist Dr Birgitte Nauerby explained how the BAX® System has improved the Salmonella testing service that they provide: "In the DVFA Southern laboratory, we analyze different kinds of food for the presence of pathogenic, as well as non-pathogenic, micro-organisms. In addition to samples from private customers, we process about a third of all samples received by the DVFA. We switched to the BAX® System for analyzing samples for the presence of Salmonella – mainly in meat samples, but also in other food types. Since receiving accreditation, we have used the BAX® System for most of our Salmonella analyses.
Faster results.
"The BAX® System is a big improvement on our previous method (an automated immunoassay system) as it has made it possible for us to obtain negative results 24 hours earlier. This is important for the food companies we are dealing with, as it means that negative results can be received a day earlier than before. In addition, the BAX® System is quicker and simpler to use, reducing 'hands on' time in Salmonella analysis.
Reliable method.
"Obtaining DANAK accreditation was an important and necessary step for our laboratory. For this, we compared the BAX® System to our previous method, analyzing numerous samples that were both naturally contaminated and spiked, including chicken, meat and a variety of other matrices (mainly fish-feed). BAX® identified two positives that were missed by our previous method, both of which were confirmed. This indicated to us that BAX® is a more sensitive system and enabled us to incorporate it into routine use within our laboratory.
"It is vital for us to have confidence in the results. Comparing the BAX® System to our previous method convinced us that the BAX® System is a better method for the analysis of Salmonella. Since we are an official control laboratory, we simply cannot afford to get things wrong. We must isolate all Salmonella positives for serotyping, so false positives can create a great deal of unnecessary work. As for missing a Salmonella - a false negative – well, that is simply not acceptable."