Food & Beverage Home → PCR Pathogen Tests → BAX® Systems → BAX® System Case Studies → BioMar Ensures Product...
Ensuring Product Quality at BioMar with the BAX® System
BioMar is an international organization that specializes in the development and manufacture of fish feed products for farmed fish. With factories in Norway, Chile, Scotland, Denmark, Greece and France, they are one of the top three suppliers of fish feed to the aquaculture industry around the world.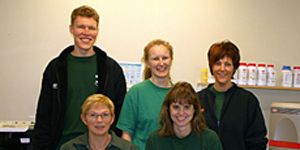 We spoke to laboratory engineer, Gudrun Aksdal, who is based at the BioMar factory in Karmøy, on the south-west coast of Norway. The main function of the laboratory at Karmøy is quality control testing of the fish feed products, involving chemical, physical, biochemical and microbiological analyses. They have been using the BAX® system for about one year to test finished product and environmental samples for the presence of Salmonella.
"We are obliged to follow government regulations, and so we must be able to demonstrate that our products are free from Salmonella and other pathogens," Gudrun explains. "It is important for us to do this before products leave the factory, since they may be used very quickly. BAX® helps us to do this quickly and reliably."
Although they were very happy with their previous, rapid culture method, they have found that the BAX® System has given them a new level of sensitivity. Gudrun continues, "PCR is a very good technique with excellent sensitivity. This gives us greater confidence in the result – we know that the results are accurate, and we can release products safely in that knowledge. Also, with next day results, we are able to release products to the fish farms as soon as possible. This is extremely important, as we have a limited area in which to store product while waiting for a result."
When deciding which PCR system to purchase, we selected the BAX® system for several reasons: we have had very good service from Oxoid over many years and they have been very helpful in answering questions I have had; the system is extremely easy to use; and we had excellent training as the system was implemented. During our first year of running the BAX® system, we have had very good support."
In addition to ensuring that finished products are Salmonella-free, Gudrun and her team also use the BAX® system to monitor hygiene standards within the factory, processing a wide range of environmental samples. "BAX® also helps us to ensure that our strict hygiene standards are being maintained throughout the production facilities," she adds. "If there is a potential problem, it calls for many more analyses and rapid answers. BAX® enables us to cope easily with any increases in workload and gives us the quick results that we require so that the necessary action can be taken in a timely manner."
Food safety is a high priority for the BioMar group. "The BAX® system plays an important role in ensuring the microbiological safety of our products," Gudrun concludes. "We hope to expand its use within our laboratory and are currently looking at the Yeast and Mold assay."